Adoring fan
I'd like to take this opportunity to thank my fan for sticking with me and putting up with all my silly posts and re-blogs.  If not for you, I'd have no fans at all, which would be rather depressing.
Can today be slutty cat boy day or something? For...
If I was capable, I'd draw a slightly overweight guy with a big beer gut wearing speedo's, a too-small black leather jacket, a big fat gold chain, and neko ears.  Just to try and make you laugh :)
Priorities
I'll be glad when this election has passed and my tumblr dashboard goes back to being about art and not hate.
Today, at my age of 20, I ate my first OREOS
cupcakedrawings: And my question is,is there any chance for anyone to ship me a box of OREOS XD I'll send money over paypal :V Ofc, I can thank my classmate Natalija for the Oreos :3 (Hvala ti mnogo Nati!) OH GOD WHY DON'T OREOS EXIST IN SERBIA!?!?!?! WHY DOESN'T THIS COUNTRY HAVE ANYTHING!!!!?!?!?!?! HUUUUUUURNG!  No Oreos in Serbia? :(   This is a tragic thing.  And to think you went 20...
Earworm.
spikeheel: Have REO Speedwagon's "Roll with the Changes" running thru my head all day so far. Don't know if this is an omen or not, but it's annoying the hell out of me. Might not be an omen as much as your sub-conscious mind working to try and do some self talk to help you through a given situation.
cupcakedrawings: I'm horny… It's post-exam euphoria :nods:
mercerism: a moment of silence for the one year anniversary of the devastating east coast earthquake LMAO
cupcakedrawings: I really don't get why people come to me and say "You are fat." I mostly turn to them saying "So? Should that hurt my feelings of what? That's the same thing when you come to me and say 'You are long/short haired', 'You have eyes', 'You are tall' it's a normal thing, it's a part who I am." I really don't get them.  People who act out in such a cruel manner know deep inside...
Intuos4 vs. Intuos5
Was looking at the Intuos5 today.  Reading through all the differences listed on the Wacom website. Call me silly, but this one little thing makes me grab my Intuos4 and hold it close: Intuos5 vs. Intuos 4. Illuminated ExpressKey's: Intuos5: No Intuos4: Yes Someone will have to do a heck of a sales job to get me to switch.
Watch
p4nny: pimp-alpaca: THERE IS A REALLY SCARY VAN THAT COMES BY THE HOUSE EVERY SINGLE DAY AT THIS TIME AND LISTEN TO WEIRD FUCKING TUNE IT PLAYS. I DON'T EVEN KNOW IF IT'S AN ICE CREAM VAN OR WHAT BECAUSE I'VE ONLY EVER HEARD IT AND NOT SEEN IT BUT IT SOUNDS LIKE IT'S SUMMONING DEMONS AND IT'S SO DAMN LOUD WITH MY WINDOW OPEN I'M SCARED. lol omfg Run.  Run far, run fast. That's just...
OMGOMGOMGOMGOMG
cupcakedrawings: I PASSED AN EXAM TODAY!  I'm so happy! I have only one more subject to pass and I ended my year! aaaaaaaaaaaaaaaa! I have 6 days to learn! So I'm off! I wont be doing that much commissions, maybe if I don't tire my self at night, I will draw. I made a lot of sketches, needs lots of work. I really want to finish them so I can open Maid theme commissions! You know,for 15$, you...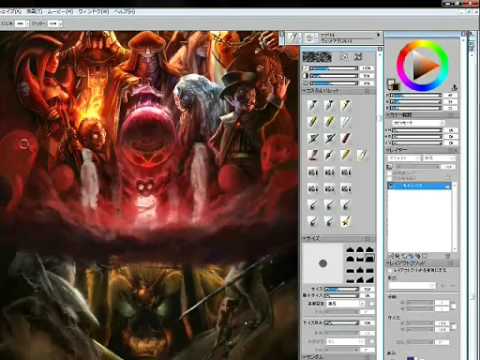 Still moving along.
callmepo: Head's up to people that I am presently banned on DA and have filed an appeal… a little extreme to go to a permanent ban instead of a a warning shot of a temporary ban first. DA is a f'ing joke these days. They single handedly re-define words such as "partiality" and "discrimination". It's also quite obvious that the mods are allowed to police...
2 tags
2 tags
VMA Contest
No, not that VMA.  The Virtual Museum of Architecture in Second Life.  They are holding a contest where entrants are required to build a virtual jukebox.  Entries are not due until tomorrow.  I've had mine done for a good week or so now, and have spent most of the rest of the time tinkering with the scripts and textures.  Amazingly, I've managed to not completely bork it while doing...
2 tags
3 tags
Putting off work, again
So here I am fiddling around with a tumblr blog, and not making the swimming suits I should be making.  I hate dealing with mesh sizing, but it will be done.  Slingshot 1 is going to be released soon thanks to Nebula, and I'm hoping by this weekend to have some micro's available as well.  We'll see what happens.  Mesh is mesh, and my mind flows wherever it does.  Last time I went...